Restoration of car parts carried
Restoration of car parts carried out by Moto-Chrom is a service consisting in surface galvanisation and chrome plating. The application of galvanised coatings to car parts gives the surface not only the appropriate visual features, but, above all, protective ones. Elements that have been galvanised are much more corrosion and mechanical failure resistant.
Galvanisation of car parts
First, beam blasting and sand blasting are done to thoroughly clean the surface and get it ready for a galvanising bath with the ions of a given metal (e.g. nickel, copper, chrome), during which a thin protective coating is created. Here at Moto-Chrom, we use state-of-the-art galvanisation equipment, thanks to which we can apply coatings not only on flat surfaces, but also on parts with very complex shapes. Application of galvanic coatings requires specialist knowledge and extensive experience.
Car part chrome plating
The chrome plating of car parts increases the wear resistance of individual elements, such as door handles, bumpers or rims. It is a process often applied to antique vehicles, whose look has changed over many years of operation. The outcome, a chrome coating, is durable and adds shine to the elements. The chrome plating of aluminium and steel improves the aesthetics of the vehicle, as well as its thermal properties. The chromium layer adheres very well to the parts restored. An elegant gloss and nice appearance of steel or aluminium car elements is possible to obtain only by chrome plating. The price of such an activity depends on the size of the surface to be chrome plated. Thanks to chrome plating, you can restore your vehicle to its original splendour in a quick and simple way.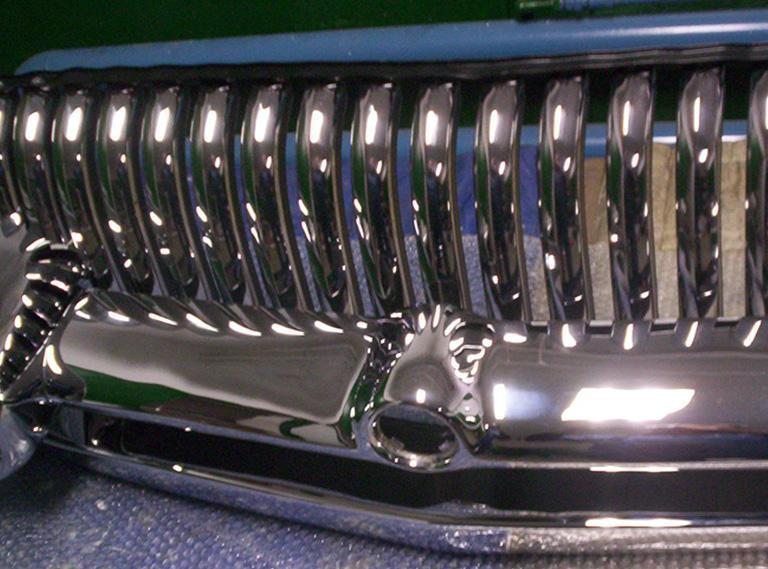 We look for forward to hearing from you. Our experts will be happy to answer all your questions regarding the service.